Hypoxic Brain Damage Attorney
Serving Maryland and the Entire U.S. for 30 Years
Our bodies need oxygen to survive. In fact, irreversible brain and other organ damage can begin within minutes of oxygen deprivation. When there is a lower-than-normal amount of oxygen in the blood, this is referred to as hypoxemia. A lower than normal amount of oxygen in tissues of the body is known as hypoxia.
A complete lack of oxygen is called anoxia. Hypoxia, hypoxemia and anoxia during pregnancy, labor or delivery can have disastrous results, leading to permanent disabilities, brain damage, cerebral palsy, and even death. It is important for a lack of oxygen to be immediately identified and treated to prevent undue harm.
At the Law Firm of Michael H. Bereston, we are passionate about helping children who have been left injured or disabled as a result of hypoxia, hypoxemia or anoxia before, during, or after labor and delivery.
Michael Bereston has 30 years of trial experience and uses this to provide effective legal representation as a Maryland hypoxic brain damagelawyer. We will be honest and compassionate in our approach to help you to get the right answers to make the right choices.
Call our offices or contact us online for a free, confidential consultation regarding hypoxic brain damage and obstetric malpractice. We help clients across Maryland and throughout the country.
Hypoxic Ischemic Encephalopathy (HIE)
Hypoxic (lack of oxygen), Ischemic (lack of blood supply), Encephalopathy (brain dysfunction) is a condition caused by a chronic or sudden loss of blood supply and oxygen to the brain. Hypoxic events can severely affect the fetus during labor and delivery. Fetal monitoring is one tool that can be used to identify when a baby is not getting enough oxygen and blood flow in labor and delivery. HIE can lead to cerebral palsy. Because of this, careful monitoring of the fetus during labor and delivery is essential. If the signs of hypoxia are not correctly and timely identified and treated, the baby may incur HIE brain damage.
Linking Hypoxia to Medical Malpractice
Not every instance of hypoxia will be caused by medical malpractice. At times, unforeseen complications can cause problems that even the most skilled and careful nurse or doctor could not avoid. However, there are some cases where hypoxic brain damage can be linked directly to a healthcare professional's failure to provide proper monitoring and care.
The following are examples of acts/failures to act that could cause hypoxia, hypoxemia or anoxia:
Delaying a C-section
Failing to recommend a C-section in a high-risk pregnancy or birth
Mismanaging/mistreating shoulder dystocia, or other complications
Failing to respond to fetal distress or fetal intolerance
Failing to diagnose/treat placental abruption, placenta previa or umbilical cord prolapse or impingement
Failing to diagnose macrosomia or cephalopelvic disproportion
Failing to diagnose uterine overstimulation
Mismanaging medications provided to induce or augment labor
What is Cooling Criteria?
After a child is born with a birth injury that threatens the health of their brain, medical cooling can be used to try to limit the damage. Head cooling and whole-body cooling are both methods that should be used when there is reason to believe the infant has suffered a lack of oxygen or blood flow to the brain, or that they have suffered from hypoxic ischemic encephalopathy. This method of birth injury care has been approved by the American Academy of Pediatrics Committee on Fetus and Newborn when certain criteria are met.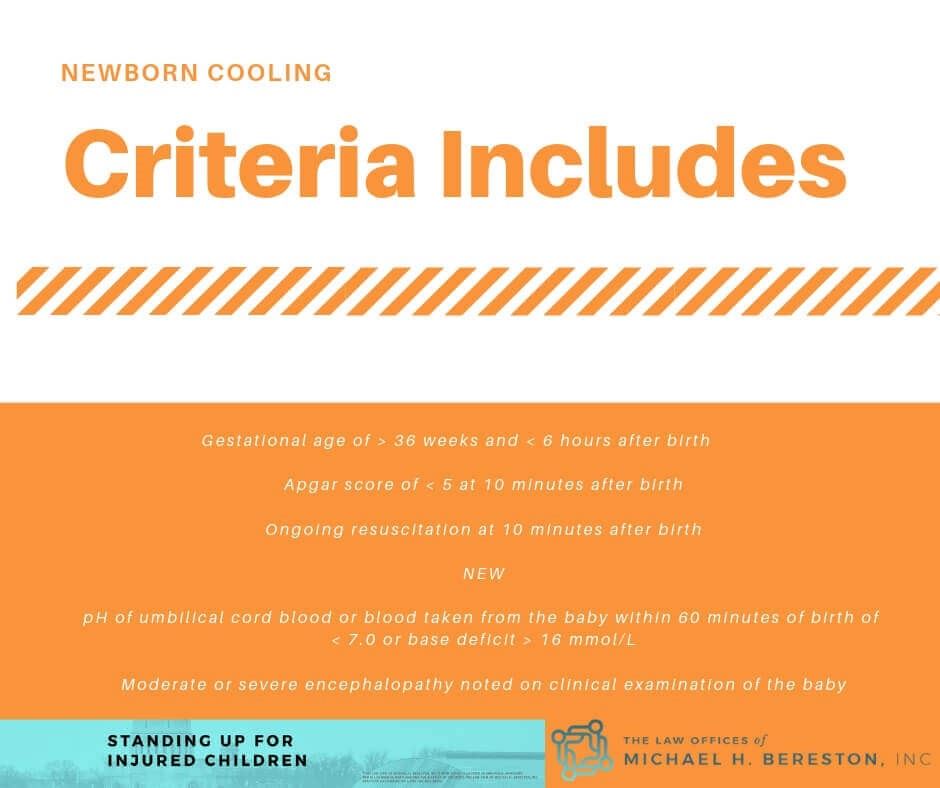 Medical cooling should lower the baby's body to anywhere between 92.3 degrees to 94.1 degrees Fahrenheit for 72 hours. Afterwards, the infant should be allowed to gradually warm throughout the next 6 to 12 hours. Subsequent medical treatments may include medication, IV fluids, a brain MRI, and a full body EEG to detect seizures.
What to Do If Cooling is Done Incorrectly
The process of head or body cooling an infant after a suspected birth injury has been carefully studied and formulated to the utmost medical standards. It is simply inexcusable for a medical professional to fail to adhere to this process and cause harm to a newborn. When medical malpractice causes a serious birth injury, it places the child and the parents in an unfair, tragic set of circumstances, as well as a difficult financial situation.
More About H
---
Call Today for Arrange Your Free Consultation
To seek justice for your child, a sense of closure, and also much needed financial compensation, you can file a lawsuit against the negligent medical provider or providers that caused the harm. At our firm, our hypoxic brain injury attorneys help clients nationwide who need someone to stand up for their child and themselves.
We are proud to say that our representation has made a positive impact in so many lives throughout our decades of practice experience. In fact, we have secured millions of dollars in compensation through settlements and verdicts alike.
Arrange your free case evaluation today by calling (410) 220-6581.