*Nationwide Birth Injury Law Firm
Helping Disabled Children Across Maryland & Throughout the U.S.
On this page:
---
In an instant, a newborn's life can be irrevocably damaged if the medical professionals and doctors who are responsible for a safe birthing process act negligently. The child and the family are then left to deal with the consequences.
With help from a skilled birth injury lawyer, you can get the compensation to fund a life care plan, including medical and rehabilitation benefits that your child and family deserve.
At the Law Firm of Michael H. Bereston, we represent clients nationwide in birth injury, medical malpractice, and other injury claims. Our birth injury lawyers only advocate for those who have been permanently and catastrophically injured.
Birth injury attorney Michael Bereston has 30 years of trial experience representing clients in complex obstetric malpractice claims. As a trial lawyer, he recognizes the importance of thorough and detailed preparation.
He uses a broad range of experts in birth injury claims and has the skills necessary to successfully advocate for injured victims and their families.
To find out more about our birth injury lawyers and how we can help, give us a call at (410) 220-6581. Your consultation is free and confidential.
Types of birth injury cases we handle
An Advocate for Children Injured at Birth
One of the biggest questions most parents ask is, "Did a doctor's mistake cause my child's injury?" While that question can only be answered after a thorough investigation, there are certain warning signs you should be aware of.
Our birth injury lawyers have experience handling a broad range of birth injury cases across the U.S., including:
Brain injuries — Oxygen deprivation during the labor and delivery process can result in serious brain injuries including HIE (hypoxic ischemic encephalopathy) and PVL (periventricular leukomalacia).
Cerebral palsy — Infections during pregnancy, oxygen deprivation, head trauma from vacuum or forceps misuse can all result in cerebral palsy.
Failure to perform a timely C-section — Delays in performing a C-section can result in oxygen deprivation, brain injuries, and death to the infant.
Gestational diabetes — Undetected, untreated or inadequately monitored diabetes can cause a maternal and/or neonatal hypoglycemia, premature birth, macrosomia, and stillbirth.
Fetal monitoring — Electronic fetal heart rate monitoring during pregnancy, labor and delivery is a routine practice. If the fetal heart rate tracings are not interpreted correctly, medical professionals can miss warning signs, which can result in serious injuries or death of the baby.
Placenta previa — Monitoring and care must be given to women with placenta previa. Failure to adequately monitor bleeding may lead to a failure to perform a timely C-section can result in serious health risks to the mother and baby.
Preeclampsia, gestational hypertension, chronic hypertension — Identification and treatment of these conditions are necessary to avoid health risks to mother and baby, such as impaired liver and kidney function, blood clotting problems, seizures, brain injuries, and death.
What Compensation Is Available in Birth Injury Cases?
Birth injuries can lead to extensive medical treatment and, in some cases, a lifetime of care. Children may experience a permanently altered quality of life, while parents may find themselves struggling to manage medical bills and the cost of ongoing treatments for their child's injuries or condition. A birth injury claim allows you to pursue compensation for both the current and future expenses associated with your child's injuries and/or condition.
Depending on the unique circumstances of your situation, you and you rbirth injury lawyer may be able to take action against a negligent medical provider in order to seek compensation for the following damages:
Past, current, and future medical expenses
Medications and medical equipment (wheelchairs, prosthetics, etc.)
Modifications to a home
In-home care costs
Specialized vehicles and other equipment
Rehabilitative therapy (cognitive and/or physical)
Occupational therapy
Counseling services
Lost wages and/or income
Pain and suffering, including emotional distress
Loss of quality of life/enjoyment
Our birth injury lawyers understand that nothing can undo the devastating events you and your child have been through, nor how these events have affected your life and the life of your child. However, by seeking fair compensation for your damages, you can not only secure the financial relief you need to ensure your child gets proper care for his or her injuries/condition, but you can also achieve a much-needed sense of justice and help prevent similar accidents from occurring to others in the future.
---
Frequently Asked Questions
What to Look for When Choosing a Birth Injury Lawyer
If your child's birth injury was the result of medical negligence, a birth injury lawyer can help you understand your legal rights and build your case to hold the medical professional accountable and seek compensation that will pay for your child's ongoing medical needs and support services.
Because birth injury cases are a specialized and complex area of law, it's a good idea to carefully choose a birth injury lawyer who has the experience and expertise necessary to give you the best chances of successfully proving your case. Here are important questions to ask when choosing an attorney to protect your child's best interests.
What Is Your Firm's Legal Focus?
Birth injury cases are very complicated and different than other areas of personal injury law. It's wise to choose an attorney that understands the unique legal and medical intricacies of your case. While many law firms advertise that they represent clients in birth injury law, many do not have much experience with these cases and may actually contract them out to more experienced law firms. Choose a law firm that specializes specifically in birth injury law from the beginning to be sure you will have the quality representation your child needs.
How Much Experience Do You Have with My Child's Birth Injury?
Birth injuries come in many forms and each type of injury comes with unique circumstances to consider. Always ask how much experience the birth injury lawyer has with the specific birth injuries your child has sustained. The Law Firm of Michael H. Bereston, Inc. has more than 30 years of experience recognizing and proving the specific ways in which negligence can cause a child's problem.
How Closely Do birth injury lawyers Work with Medical Professionals?
While birth injury lawyers are well versed in legal and medical aspects of birth injury cases, an attorney is not a medical professional. Medical professionals, especially those who have worked in NICU or obstetrics, have the ability to detect more subtle types of malpractice. A birth injury lawyer may work with nurses or physicians with relevant experience who can speak with clients and review the birthing process and medical records to provide invaluable insight into the types of mistakes that may have occurred.
What Is Your Record of Verdicts and Settlements?
Past results are not a guarantee of future success but a birth injury lawyer's record of settlements and verdicts can demonstrate their level of expertise and experience with cases similar to yours. Through 30 years of practice, the Law Firm of Michael H. Bereston has recovered many multi-million-dollar settlements including a recent $2.5 million medical malpractice settlement and $18 million in settlements in 2017 alone.
How Do I Know If My Child Was Injured During Birth?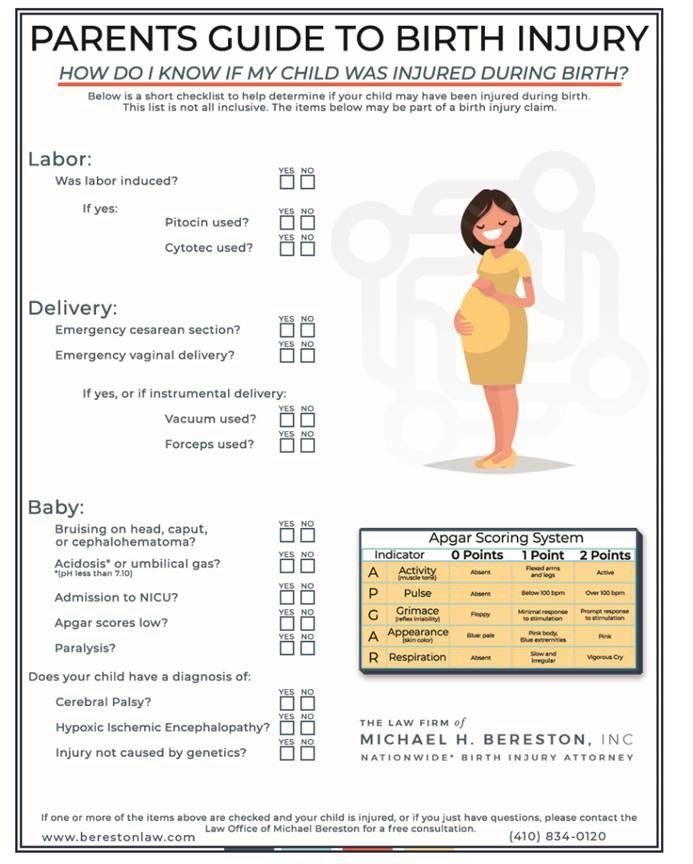 Has Your Child's Development Been Delayed?
Baby Milestones
Even severe birth injuries may not be outwardly recognizable immediately after a child is born. In many cases, the first clue a parent gets that there is something wrong with their newborn is a delay in their typical development. Any birth injury that affects a child's brain or nervous system in some way can feasibly cause a development delay, causing that child to miss significant milestones.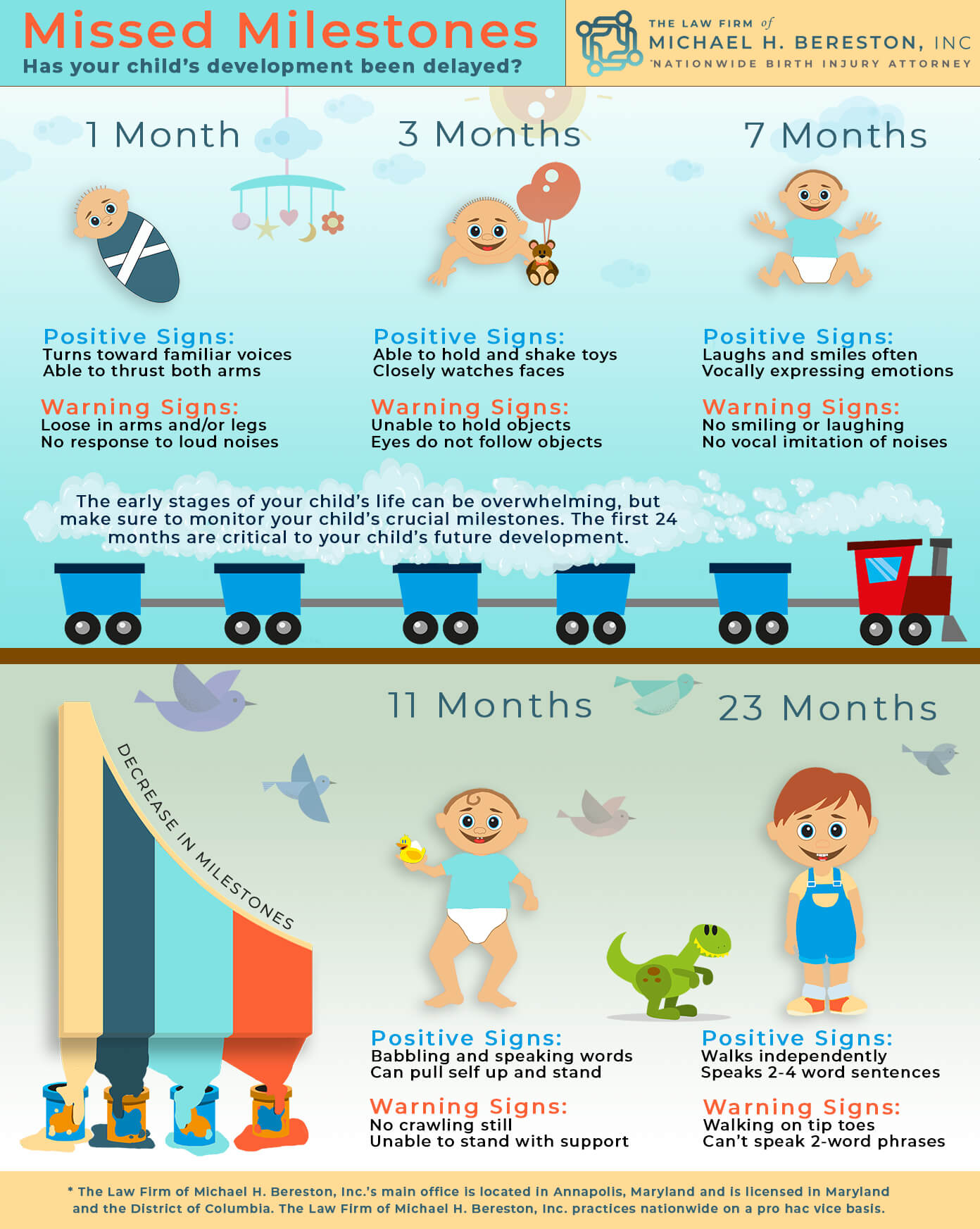 Please contact your child's pediatrician to arrange a checkup if your child misses any of these milestones. In many cases, there is nothing to worry about. Unfortunately, they are the first signs of a birth injury. It is always best to have a diagnosis performed as soon as possible. You can also check healthychildren.org for more information about developmental milestones.
Put Decades of Experience in Your Corner
We recognize that families face a seemingly insurmountable number of challenges in dealing with the after-effects of a birth injury. Our team is here to help you through the legal process by providing step-by-step guidance and strong support from our highly skilled birth injury attorney.
To schedule a free initial consultation with Michael Bereston, please call (410) 220-6581. Our birth injury lawyers are located in Annapolis, and we accept cases throughout Maryland, the D.C. metro area, and throughout the U.S.
What Causes Birth Injuries?
A birth injury may be caused by the negligence of a medical professional involved with the care of the mother, unborn baby or newborn baby. Negligence can occur while the mother is pregnant and the child is developing, during labor, or shortly after the child is born, and can result in a permanent injury. If your child is born with a birth injury, it is important to reach out to an attorney that specializes in birth injury cases as soon as possible.
What are the Long-Term Effects of Neonatal Brain Injury?
The long-term consequences of a neonatal brain injury will depend on the cause of that brain injury. Some are caused by fetal oxygen deprivation, some are caused by instruments such as vacuums or forceos which can lead to brain bleeds.
A child with a brain injury may have learning and speech difficulties. This can lead to problems with nutrition from feeding and swallowing difficulties, which may require them to undergo specialized forms of therapy for many years. In more severe cases, a neonatal brain injury may also cause a complete loss of control of motor skills. These children may require the use of braces or wheelchairs
What Does It Mean When the Doctor Says My Baby Has a Brain Injury?
If a doctor tells you that your child has a brain injury, then it might mean that they have detected the early signs of a neonatal brain injury. The extent of the brain injury may not be known for months or years depending on the severity of the injury and response to treatments. The prognosis for your child will depend on the type, location and extent of injury to the child's brain. Children with cerebral palsy (CP) may not show obvious signs that something is wrong until they are around 12 months old.
Additional Reading: