Birth Trauma & Obstetric Malpractice Lawyer in Maryland
Our Lawyer Serving the U.S. Can Help You Seek Answers
Labor and delivery can be difficult for any baby to experience, as he or she must pass through the birth canal and take that enormous step of transitioning from the womb to the outside world. While most babies make it through without major physical injuries, others are not so fortunate. Some babies experience serious birth trauma that can lead to lasting injuries or even permanent disabilities.
If your son or daughter experienced trauma at birth, do not wait to talk to a Maryland birth trauma attorney. Was the injury preventable? Was proper care really provided? These are questions that an experienced Maryland birth trauma lawyer can answer. At the Law Firm of Michael H. Bereston, we offer a free initial consultation to talk to you about your child's injuries, how they occurred, and whether malpractice may have been to blame. With 30 years of trial experience and profound medical knowledge, Michael Bereston is prepared to provide the level of representation and support that you need.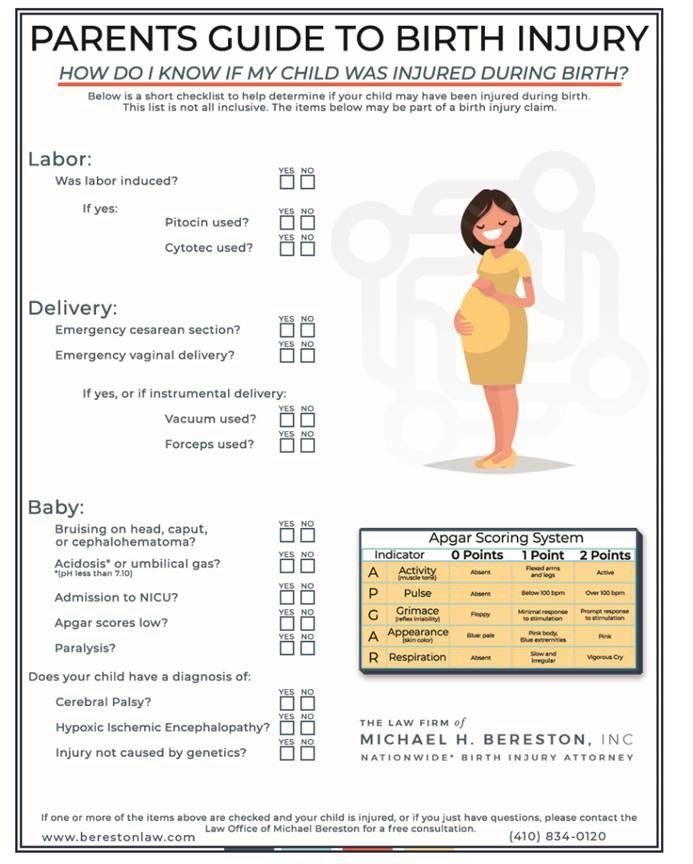 Seek answers and accountability by calling (410) 220-6581 for a free birth trauma case review. From our offices in Annapolis, we serve all of Maryland and take on cases across the country.
What Causes Birth Trauma?
In some cases, birth trauma occurs in spite of mother and baby receiving the best care during labor and delivery. In others, however, it can be linked directly to negligence or malpractice. In handling your case, Maryland birth trauma attorney Michael Bereston will be determining whether the injuries have occurred if the doctor/nurse/facility had provided standard care.
The following are examples of negligence or wrongdoing that can cause birth trauma:
Misuse of forceps or vacuum extractor
C-section errors
Mismanagement of shoulder dystocia or breech presentation
Failure to diagnose macrosomia (large infant) or cephalopelvic disproportion (infant too large to pass safely through the birth canal)
Improper handling of newborn after delivery
Injuries & Disabilities Caused by Birth Trauma
Birth trauma can take on various forms and may cause:
Paralysis
Bell's palsy (facial paralysis)
Broken bones
Facial lacerations
Severe bruising
Maternal hemorrhage
Cephalohematoma
Hypoxia (oxygen deprivation)
Cerebral palsy
Put 30+ Years of Experience in Your Corner
Your child deserves the best care. Get the financial compensation you need to provide for this and your other expenses and losses by involving a competent Maryland birth trauma lawyer who will fight for the settlement or award you deserve.
Call (410) 220-6581 or contact us online to get started. Initial consultations are always free. Call today!