Medical malpractice, also known as medical negligence, is when the medical professionals in charge of taking care of an individual fail to practice within the standard of care required of them, resulting in serious injuries.
Medical malpractice can occur before labor, during labor and delivery or even after delivery. There are many birth injuries which may be a direct result of medical negligence, including cerebral palsy.
Injury During Delivery
It has been estimated that 20 percent of all CP cases are the result of brain damage stemming from medical negligence. Operative vaginal deliveries using forceps or a vacuum extractor may cause an injury to the baby that may result in cerebral palsy. These injuries may result from a lack of oxygen or bleeding in the brain of the baby.
What Can I Do?
It's understandable to feel as if there is nobody to reach out to for help, as you may feel very alone following your child's birth injury diagnosis. It's important to inform you that this is a common feeling and that there are others in the same boat as you, and you are not alone in this. There are things that can be done to help you and your family, along with people you can speak with to help with your mental health.
We want you to know that there is a checklist to help you identify the possible cause(s) of your child's birth injury.
This checklist will guide you through some questions to help you determine if your baby's birth injury was related to medical negligence or not.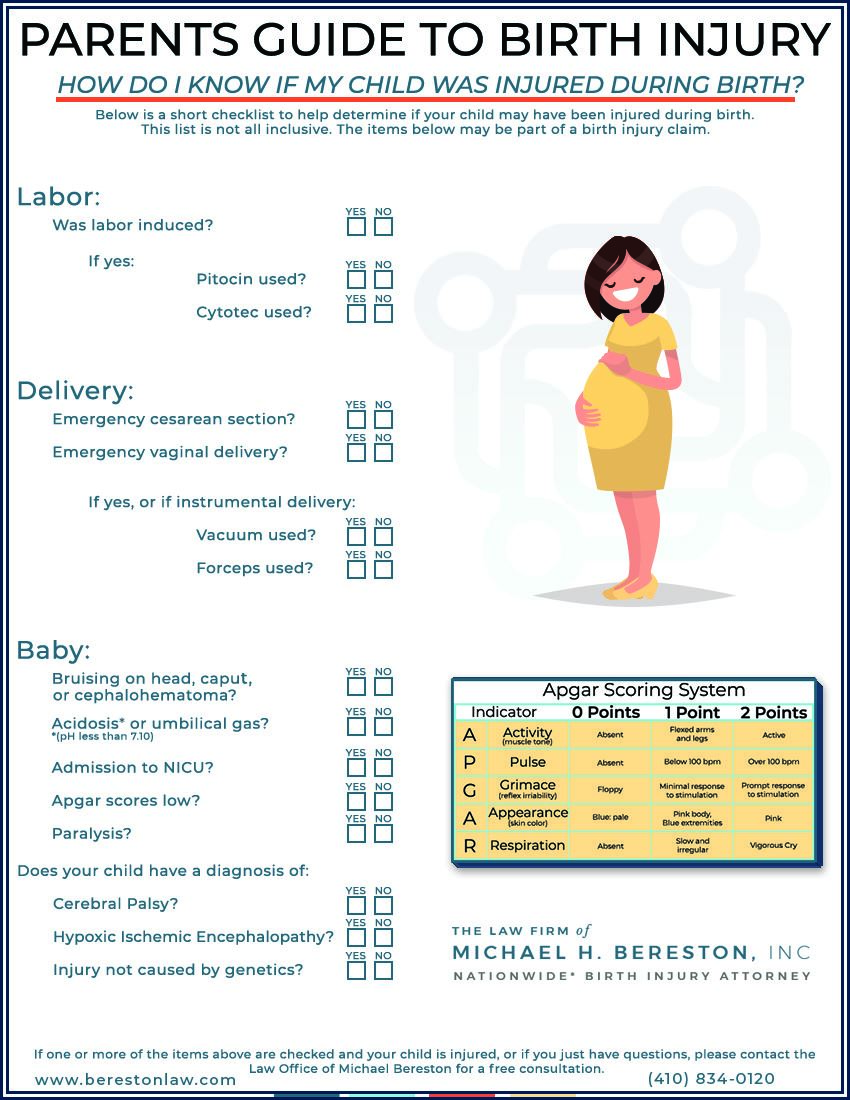 How The Law Firm of Michael Bereston Can Help
If you've completed the checklist and suspect medical negligence to be at fault for your child's birth injury, it's important for you to speak with a birth injury attorney to discuss your rights. An experienced birth injury attorney will listen, often over a free consultation, and give insight into your case. They will give you information about what the next steps for you to take are, along with how they can help.
Medical malpractice is something that deserves justice. Call The Law Firm of Michael H. Bereston, Inc. today at (410) 220-6581 to schedule your free consultation.