Cerebral palsy (CP) is a group of neurological disorders that typically affects one's motor and cognitive functions and hinders the body's ability to move in a purposeful, coordinated way.
It's important to understand that cerebral palsy can manifest itself in different ways, and impairments to movement or other functions will depend on which area of the brain was affected. There are four major forms of cerebral palsy:
Spastic
Dyskinetic
Ataxic
Mixed
Below, we discuss the various forms of cerebral palsy, how they occur, and the symptoms that may manifest for each.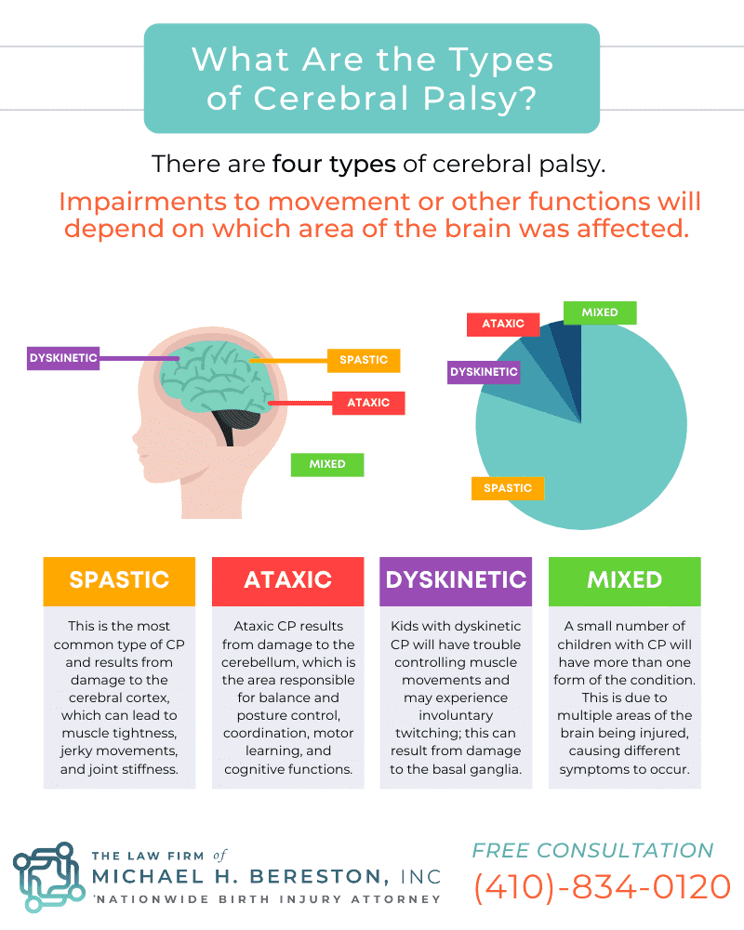 Spastic Cerebral Palsy
Spastic cerebral palsy is the most common type of CP and often results from damage to the cerebral cortex. Children with spastic CP have increased muscle tone and experience spasticity. This means that their muscles are abnormally stiff, tight, or even painful due to prolonged muscle contraction.
Spastic cerebral palsy can further be broken down into three subtypes:
Spastic Diplegia. This typically causes muscle stiffness in two limbs, typically the legs, and can lead to difficulty walking; however, the arms or upper body may also be affected.
Spastic Hemiplegia. This primarily affects only one side of the body, often leading to motor impairments in the arm.
Spastic Quadriplegia. This is characterized by motor dysfunction all over the body.
Dyskinetic Cerebral Palsy
Some children with cerebral palsy have a form of the condition called dyskinetic CP, also referred to as non-spastic or athetoid cerebral palsy. This can result from damage to the basal ganglia, which is responsible for motor control, motor learning, and emotions.
Children with dyskinetic CP may experience involuntary twitching and have difficulties controlling the movements in their arms and legs. They may alternate between movements that are first slow and then quick and jerky. Sometimes the face is also affected, leading to speech impairments.
Ataxic Cerebral Palsy
Ataxic CP results from damage to the cerebellum, which is the area responsible for balance and posture control, coordination, motor learning, and cognitive functions. Children with this form of cerebral palsy may have problems with balance and coordination and experience a variety of other symptoms, including:
Muscles that are too loose
Overall poor posture
Body tremors
Difficulty with small, precise movements
Problems with depth perception
Mixed Cerebral Palsy
In some cases of cerebral palsy, damage to the brain is not confined to one area. When a child shows symptoms of several types of cerebral palsy, they may be diagnosed with mixed CP.
Parents and caregivers are encouraged to seek out the help of a doctor or a cerebral palsy specialist if they suspect that their child is suffering from CP.
Giving a Voice to Your Family
If your infant is missing important milestones and you suspect they may have cerebral palsy, it's important to see a medical professional for a proper diagnosis. The earlier your child's symptoms are treated, the better chance your child has at improving their motor and cognitive outcomes.
With that said, if your child developed cerebral palsy before or during birth because of a negligent medical provider, you should know that you and your family have a legal right to file a birth injury claim.
With over 30 years of legal experience, our team genuinely understands the challenges that you and your child may face in the future after a cerebral palsy diagnosis. When you choose The Law Firm of Michael H. Bereston, Inc. to handle your child's birth injury case, you get a team of caring legal advocates who will always have your best interests at heart.
More Answers About CP:
Contact our firm at (410) 220-6581 to schedule your free consultation with Attorney Michael H. Bereston today. While our offices are located in Annapolis, Maryland, and the District of Columbia, we serve clients nationwide on a case-by-case basis.